Blog
Published on May 19th, 2014
Question of the week revisited – 24 September 2013 – Newspaper advertising, why it doesn't work
Why don't you advertise in the local press any more?

To be honest this isn't actually a question anyone has asked us since we decided to move out of the local Domain lift out about 6 months ago. It is however the basis for an interesting marketing strategy by one of our competitors – you may or may not have seen it, as they are using the printed press to push this "theory".
 So why have we moved away from print media to advertise our properties? The short answer is that it doesn't actually work! The longer answer covers the following key points:
 The internet is by far and away the most successful method of reaching buyers

Print media has been drastically dropping as a source of inquiry

Fairfax doesn't believe in print anymore!

We prefer to use a high quality, long lasting print medium like "Choices"

The target audience for people who read the paper and can't use the internet is very small, and they are likely to use other methods of inquiry
Let's expand on these points:
The internet vs. print – by the numbers
There have been a number of studies regarding sources of inquiry in the Real Estate industry. We haven't just relied on a gut feel that print doesn't work (though we could see that from our own results), but researched a number of industry reports to confirm what we were seeing in our office.
Some of the more interesting reports include:
Allhomes.com.au research that showed that 89% of buyers in the Canberra Market first found the property they purchased on Allhomes.com.au – this is an incredibly powerful indication of how people from the ACT search for homes. With the new hospital and potential public sector cuts in Canberra we are starting to see the first wave of people from Canberra moving down the coast to retire. By advertising on Allhomes.com.au we have that market covered.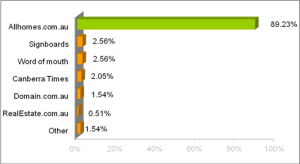 ACA Research (May 2012)
The Macquarie Real Estate Benchmark Report for Australia indicates that only 8% of businesses nominated print advertising as the major source of inquiry for their business. Further more this figure had plummeted from 40% in 2008. This indicates that the Real Estate Industry have recognised overwhelmingly that print media is no longer a good source of inquiry.
In 2011 www.bestpractice.com.au indicated that 72% of all buyer inquiry came direct from the internet, only 11% came from Newspapers. Considering the growth of internet as a source of inquiry from 0% in 2000, the writing has been on the wall for Newspaper advertising for a long time!
 Fairfax doesn't believe in print anymore!
"Readers behaviors have changed and will not change back. As a result we are taking decisive actions to fundamentally change the way we do business."
This quote is from Fairfax's Chief Executive and Managing Director Greg Hywood on the 18th of June 2012 when he announced changes to their business to shift focus from print to online media delivery. http://www.asx.com.au/asxpdf/20120618/pdf/426wcrqb4ns6px.pdf
The Financial Review noted at the time that:
"Fairfax Media has kicked off a long-awaited radical restructuring of the newspaper industry, with the loss of one in five staff over the next three years and a plan to switch to a digital-only model if necessary." http://www.afr.com/p/business/marketing_media/fairfax_spearheads_digital_future_qLEvd7mJldpga9Ln9Min0O
It is difficult for us to justify advertising in the paper when the people that run the paper don't actually believe in it anymore!
Choices
When we made the decision to move out of the local papers we were conscious not to abandon the print medium completely. The issues we had with the paper (apart from the distinct lack of success in reaching buyers) was the lower quality production; short time frame of each ad and the fact that the paper was not specifically targeting people interested in the local Real Estate market.
 To combat this we are investing in the local Choices magazine. This is a specifically produced to capture content about the local market. It is a very high quality production, with nice glossy pages. Importantly each edition is "live" for 2months, so you can get excellent coverage from your ad.
 Choices also has an excellent distribution footprint, it is delivered to households through out the valley and is also available from a lot of the Merimbula agents, as the only Bega agent advertising in Choices, we have a unique foothold into the Merimbula market.
Who "relies" on the paper to find a home?
 This is the key question we asked before we made the decision to withdraw our ads in the paper. As we have shown the internet is easily the biggest source of marketing inquiry for real estate (Word of mouth and repeat business is actually the biggest source of business, but I will expand on that a bit later). Who are we potentially missing out on if we aren't in the paper?
 The Allhomes study shows that we have the vital Canberra market covered and the industry studies show how much we get out of the internet and how little inquiry actually comes from the newspaper.
There is a feeling that the older generations might not be as internet savvy (though my Grandmother set up her own Facebook account when she was 80!).When we look at a typical older person who doesn't use the internet; but is looking to buy a home, we realised they were also the people most likely to walk into the office or just pick up the phone and introduce themselves and let us know what they were looking for.
Conclusion
 So in answer to our competitors question about why we don't advertise in the local paper any more; I think the more appropriate question is "why do they continue to use an outdated method that doesn't actually work?"
 If I was a vendor I wouldn't be too concerned if my property was advertised occasionally in the local paper or not – my biggest requirement would be ensuring an excellent online presence, good signage at the property and the agents shop front and a high quality Real Estate specific print presence. The only thing I'd be worried about if I was in the paper would be if I was paying for it, given the current research and facts about marketing reach of different mediums; vendors should be very wary about handing over their own money to pay for print advertising – there are numerous better things you could be spending your money on such as professional photography and highlighted properties online.
 Have we noticed any drop off in inquiry since we've made the decision? Absolutely not; in fact we are busier than we have been in any period over the last four years! The proof is in the pudding – Newspapers are dying a slow painful death, we just decided not to be part of the collateral damage!
 PS
 The most interesting thing I gleaned from the Macquarie report was that 50% of the businesses that responded indicated that word of mouth and repeat business was the best source of inquiry for their business. So ask around, talk to your friends and family, work colleagues etc about their experiences. We are proud of the reputation we are building at Elders Bega; and we would love to help you either sell your home or find your next property.
 Disclaimer: All thoughts are my own, you should undertake your own professional advice (legal, financial or astrological) before undertaking to purchase property